CONTACT US TO LEARN MORE! 601-724-7882
Enhanced Wellness Living, Functional Medicine Clinic, in Ridgeland, Mississippi is offering $250 off regenerative men's sexual wellness treatments from now until June 30th!
Has your quality of life and intimacy with your partner been affected by erectile dysfunction or Peyronie's Disease (penile curvature)? Lifestyle changes in diet and exercise, combined with the safe and proven GAINSWave treatment and P Shot, can dramatically improve your health and reignite your intimacy and stamina!
Our GAINSWave for men's health eradicates the causes of erectile dysfunction and Peyronie's disease while improving men's sexual performance and overall health.The Priapus shot, aka P-Shot for men is a revolutionary technique that literally rejuvenates your penis, treating erectile dysfunction, improving size, increasing sensation, and boosting sex drive. The P–Shot requires no prescription pills, no surgery, no pain, no downtime, provides immediate results and has a 90% immediate success rate!
The Enhanced Wellness Living Practitioners partner with you to educate you on sustainable lifestyle habits to improve your relationship and sexual health.
Have good sex at any age and any time!
CONTACT US TO LEARN MORE! 601-724-7882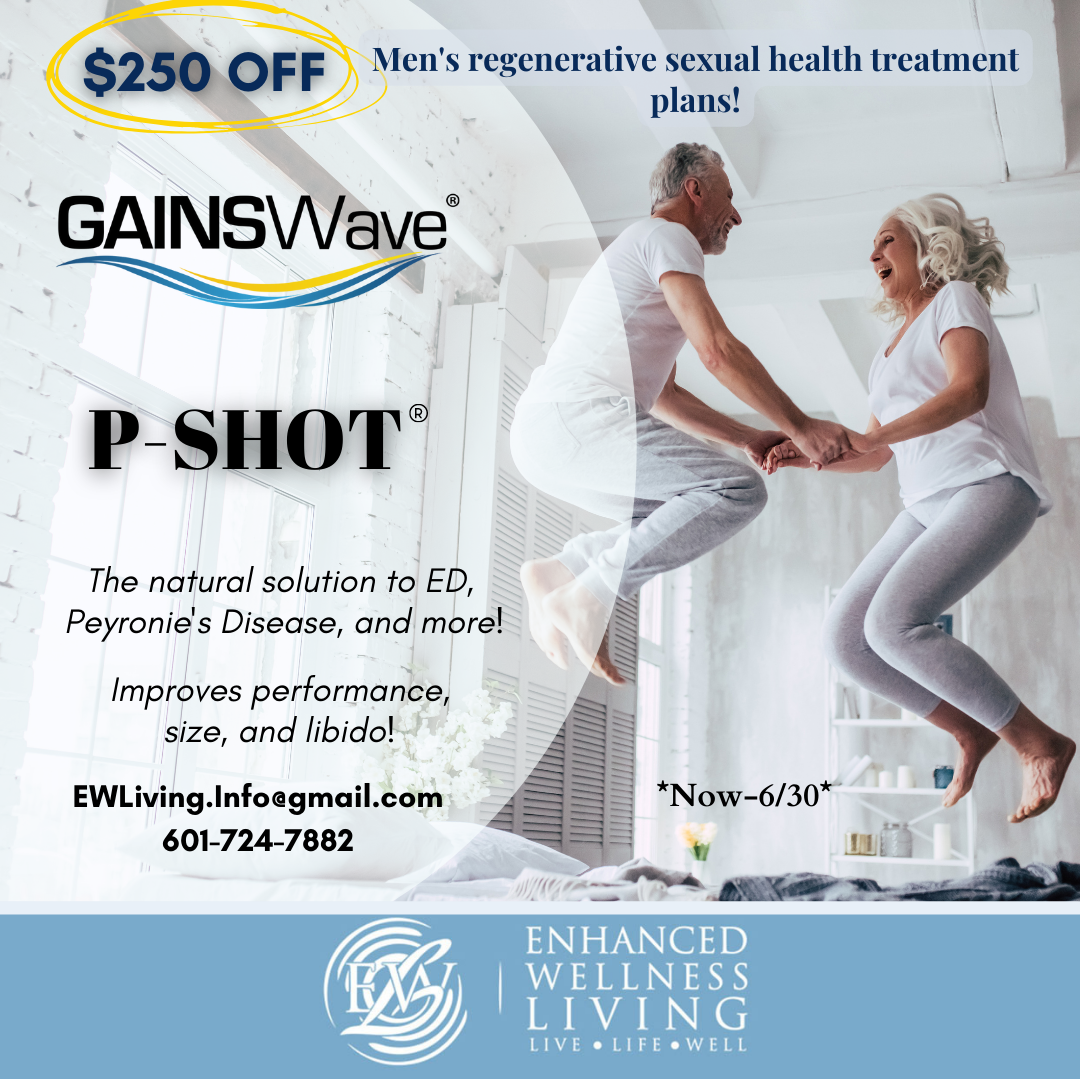 Get Started for Her! Get Started for Him!
CONTACT US TO LEARN MORE! 601-724-7882
Enhanced Wellness Living of Ridgeland, Mississippi is your leading Functional Medicine, Holistic Health, Lifestyle Medicine, and Integrative Medicine clinic! Nurse Practitioner, Kelly Engelamann, and the Enhanced Wellness Living team have supported all of Mississippi including Ridgeland, Jackson, Madison, Brandon, Hernando, Starkville, Flowood, Vicksburg, Oxford, Olive Branch, the Mississippi Gulf, Cleveland, Clinton, Hattiesburg, Canton, Bolton, Hinds, and more since 2004!
These statements are not intended to diagnose, treat, or cure any disease.